Center for Health Systems Innovation Executive Director:
William Paiva was named the new executive director of Oklahoma State University's Center for Health Systems Innovation in 2014. William is a health and biotech venture capitalist who served as a board of director for the CHSI since its establishment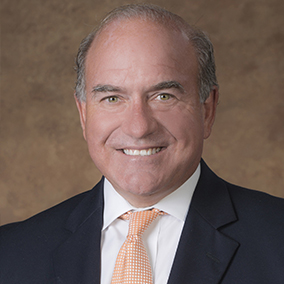 in 2012. He is an Oklahoma native who received a Ph.D. in Molecular Biology from the University of Oklahoma and an MBA from Tuck School of Business at Dartmouth College. William brings a broad range of knowledge and expertise from his management consulting experience with Pittiglio, Rabin, Todd & McGrath, providing business strategy and process consulting services to large pharmaceutical companies, as well as from his tenure as an associate in J.P. Morgan's Healthcare Investment Banking group in New York City. For nearly 20 years, William has invested in cutting edge health care companies through Sevin Rosen Funds, Chisholm Private Capital and the Oklahoma Life Science Fund. In addition, he's also taught venture capital courses and entrepreneurship classes at OSU's Spears School of Business, Tulsa University and the University of Oklahoma.
External Board of Directors:
Nick Larusso, M.D. | Head of Innovation, Mayo Clinic-Minnesota
Jason Hwang, M.D., M.B.A. | Co-Founder and Chief Medical Officer, PolkaDoc
David Aylward, J.D. | Senior Advisor, Global Health and Technology, Ashoka
Roger Montgomery, M.D. | Medical Director, Cherokee Nation Health Services
Chris Wasden, Ph.D., M.B.A. | Executive Director of the Sorenson Center for Discovery and Innovation at the David Eccles School of Business, University of Utah
Internal Board of Directors:
Kayse Shrum, D.O. | President, Oklahoma State University
Ken Eastman, Ph.D. | Dean, Spears School of Business
Bruce Barringer, Ph.D. | Department Head, School of Entrepreneurship
Bruce Benjamin, Ph.D. | Interim Vice Provost for Graduate Programs, Associate Dean for Biomedical Sciences
Jim Hess, Ed.D. | BankSNB Professor of Health Care Administration, Center for Health Sciences
Ramesh Sharda, Ph.D. | Vice Dean of the Watson Graduate School of Management, Spears School of Business
Jeff Hackler, J.D., M.B.A. | Assistant to the Dean for Rural Service Programs, OSU Center for Rural Health
CHSI Health Informatics Advisory Team:
Keith Campbell, M.D, Ph.D. | Director of Clinical Decision Support, Veterans Health Administration
P. Lloyd Hildebrand, M.D. | Professor of Ophthalmology and Manager of Electronic Health Records Systems, Dean McGee Eye Institute
John Krueger, M.D. | Associate Chief of Staff, Primary Care at Veterans Health Administration
Susan Castillo | CEO, Informatics.com