Spears grad changing the business of connecting
Monday, October 24, 2022
Media Contact: Stephen Howard | Manager of Communications | 405-744-4363 | stephen.howard@okstate.edu
Imagine you're at the Oklahoma State football game. It's a beautiful fall day at Boone Pickens Stadium and the Cowboys are winning big. It's time for a run to the concession stand, where you bump into an old college friend you haven't seen in years.
The two of you catch up and laugh about old memories, and at the end of the conversation your friend hands over a business card so you can stay in touch. But, after the game when you get home, the card is nowhere to be found.
These types of missed connections happen all the time, and Jeremy Greenfield and Popl are changing that. Greenfield is the Chief Revenue Officer at Popl, a company that is revolutionizing the way data is exchanged using near-field communication (NFC) and QR code technology. Similar to a key fob or the tap-to-pay function on your credit card, a Popl device connected to your phone, wrist or wallet will send information to anyone's smart phone with a simple tap.
Greenfield is a Ponca City, Oklahoma native who splits his time between Oklahoma City and Los Angeles, where Popl's offices are located. He earned his bachelor's degree in business administration from OSU in 2007, and the Spears School of Business caught up with him to find out a little more about his entrepreneurial journey.
Tell us about Popl and how it works?
Popl is a digital business card platform for both teams and individuals. For individuals, Popl has a mobile app that allows for managing multiple digital cards, collecting contacts, sharing QR codes, scanning paper business cards and more. For companies, Popl has a full dashboard that allows admins to create, manage and distribute digital cards to an entire organization. So, when you meet somebody, instead of handing pieces of paper like our grandparents did, now you can tap your phone and instantly connect digitally. As the Popl user I can decide if I want to share my entire profile with you or only my LinkedIn, email, Venmo, PayPal, files, videos, Instagram and more.
What excites you most about working with Popl?
Our goal at Popl is to eventually IPO as we continue to change the way the world connects at a global scale. But for me personally, what excites me most is helping people connect. You never know when you'll meet that person that changes your life. If you didn't fully connect with them and missed that connection, the butterfly effect of how different your life would be is hard to imagine. Whether it's a spouse, a business partner or anything in between.
Think back to college when you're making lifelong friends your first year. If you don't get that person's phone number, or their Instagram or Snapchat the likelihood of running into them again on campus is up to chance. But with Popl, because we digitally connect on the spot the very first time, there's no chance of that misconnection when going from the analog to the digital world.
NFC technology is pretty amazing stuff. What is the growth potential for NFC and Popl?
We launched a few months before COVID hit. So essentially, right before the world went contactless, we introduced a contactless sharing solution, and it can be applied to so many different things. Innovative Dining Group here in Los Angeles has found another great way to use Popl. They placed Popl devices on tables at their high-end restaurants. Instead of scanning a QR code, customers can tap the Popl devices and have an on-brand experience. We take them to a page where they can order, view the wine list, book a reservation or pay their tab all in one place.
We would love to talk to Mike Gundy and Mike Boynton about recruiting applications for Popl. Let's say I'm a player and Boynton walks into my living room wearing a custom OSU wristband. It could say "Defense" like we used to have in the Eddie Sutton days (I love that he's bringing so many of those great things back and creating that culture) and then his Instagram just automatically pops up on their phone and now they're connected. That's going to stand out to the recruit while the other coaches are handing him a piece of paper or saying, "text me."
Being eco-friendly is in the mission statement for Popl. If everyone exchanged information this way it could help the environment as well, right?
Absolutely. We're not only tackling paper business cards, but we're trying to get rid of all printed marketing material. Companies spend a lot of time and money printing them, and they go right in the trash. I don't want to carry around a piece of paper when I could just have your PDF or site on my phone via Popl.
Who were the professors at Spears Business that helped you the most?
Marc Tower was my first entrepreneurship professor at Oklahoma State, and I think it might have been his first class to teach, too. I remember when I first walked in, I thought he was a dead ringer for Steve Carell. But beyond that, he was so approachable. I really gravitated toward professors like him and Dr. Andrew Urich.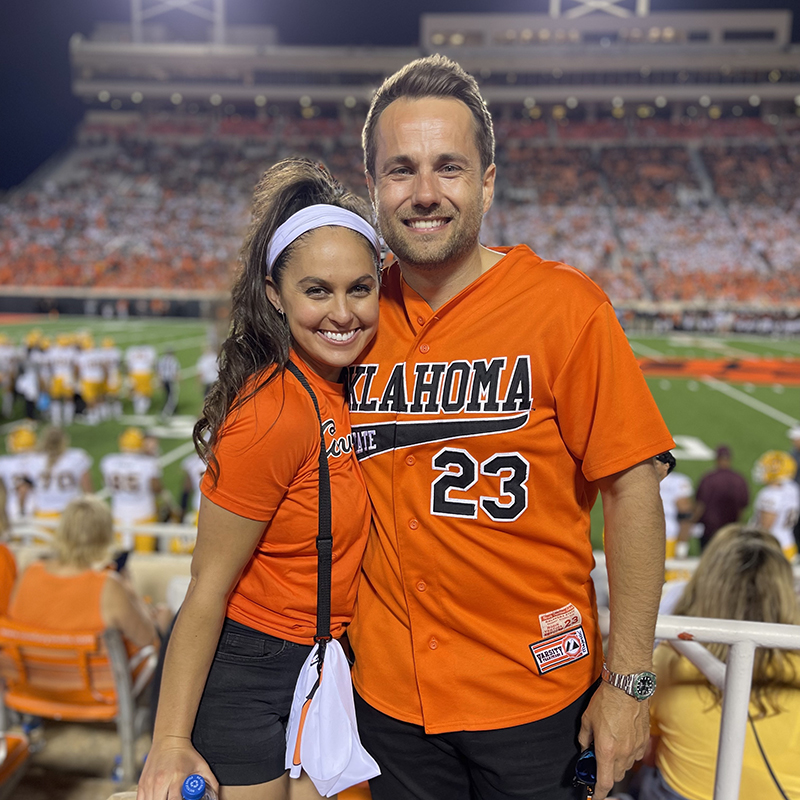 They had their business and professional life, and now they want to give back. That has always really spoken to me because when you're 18 or 20 and you're sitting in these classes it can kind of feel like high school No. 2 at times. Then you get those professors who would just straight talk with you, and it would open up a glimpse of what this can be. Between those two, they definitely had a big impact on my goals and aspirations coming out of undergrad.
What advice do you have for the next generation of Spears Business students?
First, if your goal is to get a great job and rise to the C-level at a big corporation, I would say to get as many internships as you can and try to get in front of the companies you want to work at. They tend to hire the interns that they have a relationship with, so the earlier you can build those roads, the better. You have to build a bridge to be able to walk across it. In school, you can get into the trap of thinking that grades are the only thing that matter.
On the flip side, if you want to be an entrepreneur, I would say to find the people in your class that think like you do, because they're out there. They're the ones starting YouTube channels. They're the ones starting TikToks and trying to make a business out of it. There are a few recent graduates from Oklahoma State that started Busta Jack Golf. They came up on TikTok and I saw they were OSU grads. They're both really likable guys. In less than a year they've turned a love of golf into a full-time business.
Start early and make sure to keep your fixed costs low so that you can continue your journey, because the only thing that separates somebody in business from somebody who's not is money in the bank. It's hard to chase your dreams if you can't afford to eat or sleep comfortably. Comfortably can be on the couch - it doesn't have to be a nice place. But the longer you can chase your dreams, the more likely you are to achieve them.