Spears student artist celebrates black lives
The artwork of Spears Business student Saghar Mirtarazjani has won a spot in the Oklahoma State University 2021 Celebrating Black Lives Art Contest and will be exhibited in the Student Union Jan. 18-29.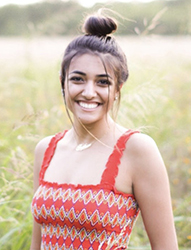 The OSU Division of Student Affairs Diversity Programming Committee announced the winners of the 2021 Celebrating Black Lives Art Contest, which includes Mirtarazjani's graphite pencil and oil pastel drawing depicting a child dancing with her father.
"The black and white with the adult feet is representing his absence in the little girl's life," said Mirtarazjani. "The little girl has all the life and passion in her, represented by the colors. Originally this piece was for Black History Month and it is about slavery. I wanted to show the struggle of having a parent's absence due to the slave trade and the little girl having to dance on her own."
Mirtarazjani, who is originally from Tehran, Iran, and now lives in Tulsa, said her artwork also represents her own father's absence who she hasn't seen in more than nine years. A freshman, Mirtarazjani is majoring in international business with a minor in Spanish.
The Celebrating Black Lives Art exhibit can be seen in the basement of the Student Union in the Orange Wall Art Gallery beginning on Martin Luther King Jr. Day Jan. 18. The contest highlights the stories, experiences and histories of black lives through visual art.