Sagarnaga named vice chair of Oklahoma Governor's International Team
Dr. José Sagarnaga, director of the Center for Advanced Global Leadership and Engagement (CAGLE) at the Spears School of Business, has recently been named vice chair of the Oklahoma Governor's International Team (OKGIT). The group of business leaders, government officials, educators and non-profit representatives serve as international resources for Oklahoma citizens, businesses and government agencies.
Sagarnaga, who is also an associate professor of professional practice in the Spears Business Department of Management, will serve the group of more than 50 OKGIT members alongside chairperson Shalon Simmons. Once he completes his term next year, Sagarnaga will be named the group's chair. He first joined OKGIT in 2017 and has worked with the Marketing and the Education and Cultural committees.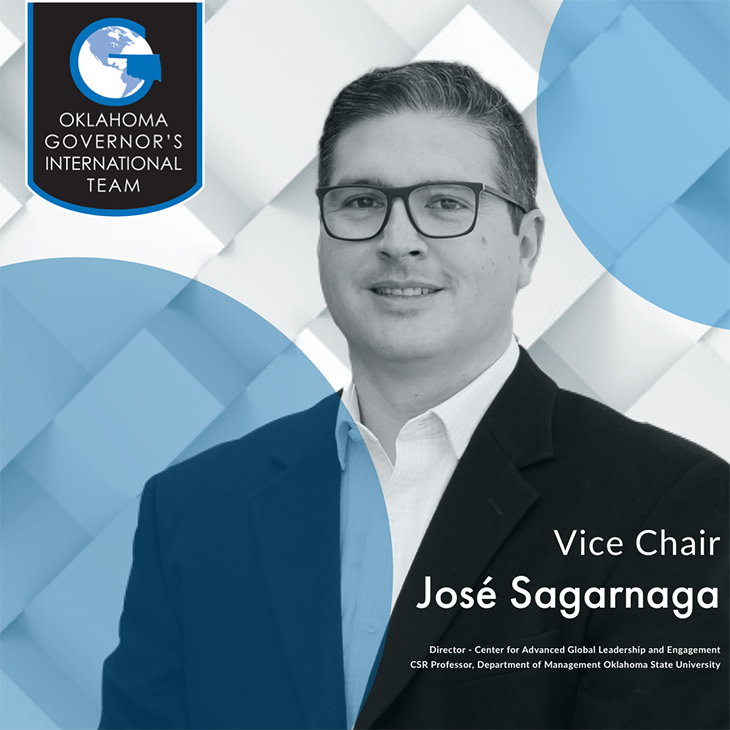 "I first learned about the Oklahoma Governor's International Team when I was an international graduate student at OSU in 2004," said Sagarnaga. "Dr. Steve Miller, a professor of marketing and director of International Programs, and Dr. Jim Hromas, the dean of the School of International Studies, were supporters of the OKGIT goal of increasing the awareness of global opportunities in the State of Oklahoma and they communicated some of the OKGIT initiatives with their graduate assistants."
Sagarnaga said his goals as vice chair and a member of the Executive Team include engaging and working with all OKGIT committees and continuing to contribute to Oklahoma becoming a top 10 state in trade and foreign direct investment.
OKGIT was established in 1994 to assist and advise the Oklahoma Governor's Office, Oklahoma Department of Commerce and other state agencies concerning international matters. OSU's Miller played an essential role in setting up the foundations of OKGIT and became its first executive director in 2008.
"I hope that Oklahoma State and the Spears School of Business continue Dr. Miller's legacy contributing to the goals of the Oklahoma Governor's International Team and our state," Sagarnaga said.