December Global Faculty of the Month
Monday, December 14, 2020
Dr. Ajay Sukhdial is the Spears School of Business Global Faculty of the Month honoree for December, as selected by the Center for Advanced Global Leadership and Engagement (CAGLE).


Sukhdial hails from India. Spending most of his young life in India's cultural mixing pot, he learned four languages – English, Hindi, Punjabi and Dogri. His favorite food was dal and sabji growing up, a lentils and vegetable Indian dish.


He completed his undergraduate education in physics, chemistry and mathematics at St. Stephens College in Delhi, one of the oldest and most prestigious colleges for the arts and sciences in India. His first trip to America came in 1981 when he visited Davidson College in North Carolina after receiving a full scholarship to pursue his graduate studies. He then completed his MBA at Wake Forest University in Winston-Salem, N.C.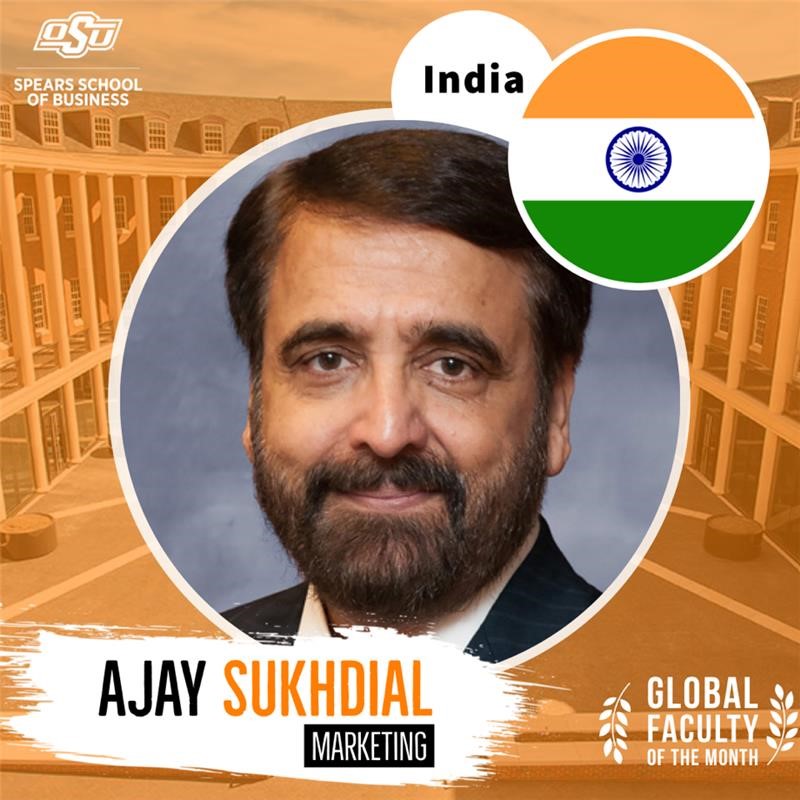 After his time in North Carolina, Sukhdial headed to the Pacific Northwest to complete his Ph.D. at the University of Oregon. After earning his doctorate degree, Sukhdial realized that he wished to stay in the United States, interviewing at several institutions before accepting a position at Oklahoma State University in 1989.


"During the interview process, I realized that OSU was the best fit for me," Sukhdial said. "All these years later, I am still glad that I chose OSU because I love working in the collegial and supportive environment of the School of Marketing and International Business and the Spears School of Business."


Sukhdial remembers a time in 1996 when he realized how close the Cowboy family is. Coming home to Stillwater from Oklahoma City, he was a passenger in a car hit by a drunk driver. His injuries were quite severe, and he was bedridden for an extended period.


"During my recovery period, the support and care from the doctors and nurses at the Stillwater Medical Center, my Spears School colleagues, and Stillwater friends overwhelmed me," he says. "To this day, I remain grateful to be a part of this beautiful community."


He currently teaches undergraduate and graduate international marketing and current topics in international business. Researching the links between personal values, moral orientations and sports fandom, Sukhdial explores the relationships between personal values, emotions and consumer choices.


Considered a global scholar, Sukhdial has explored the world and encourages others to do the same, considering it a privilege to travel and maximize one's knowledge by studying abroad.


"I believe one must learn to be observant of local culture, keep an open mind and be willing to lose oneself in one's travels occasionally," he said.


Spears Business is home to 43 global faculty members. These faculty members come from all corners of the world, spanning 17 countries and five continents, bringing a wide array of cultural diversity to our community. Global faculty contribute to the depth and breadth of student learning in business education in our eight academic departments. They collaborate with students and prepare them to work and live in diverse and global societies.