February Global Faculty of the Month
Thursday, February 18, 2021
The Center for Advanced Global Leadership and Engagement (CAGLE) and the Spears School of Business are excited to name Dr. Jeanine Porck the February 2021 Global Faculty of the Month.
Porck, a native of the Netherlands, grew up in the small town of Soest, in the province of Utrecht.
"I went online to show my students my hometown at the beginning of the semester, and when I searched it, the first image that showed up was a picture of a windmill and two cows," Porck said.
Her life growing up was happy, she said, which is not surprising considering Dutch children are consistently ranked as some of the world's happiest kids. She spent much time in nature, ice skating and riding her bike everywhere, rain or shine. Even biking to school in the snow.
As a student in Delft, she knew she wanted to travel the world and was lucky to find her husband, boyfriend at the time, who wanted to do the same.
Speaking four different languages, Porck is somewhat of a global citizen of the sense, spending three years living in Singapore bridging her time between the Netherlands and her time in America.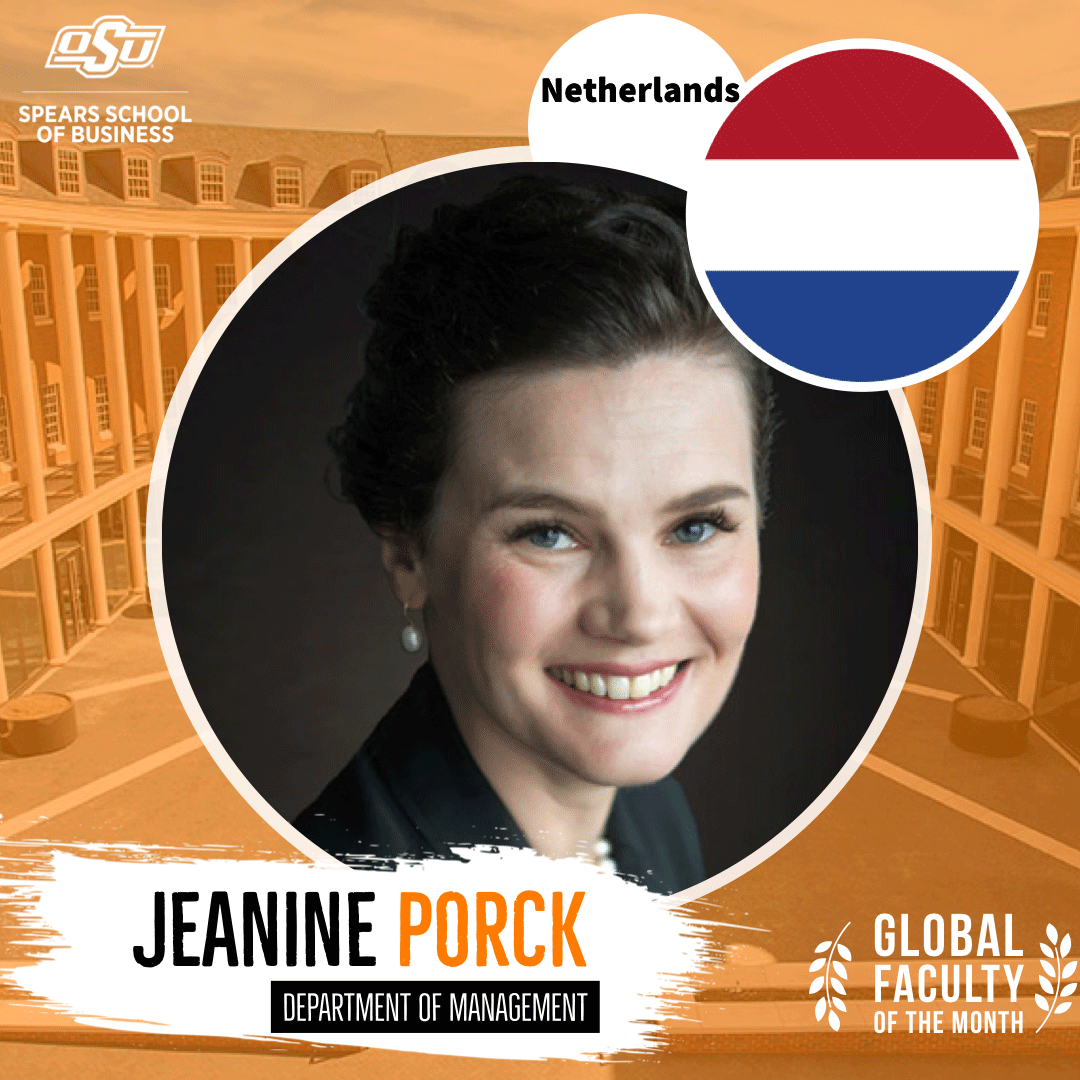 She moved to Singapore with her husband shortly after receiving her Ph.D. in Management from Erasmus University in Rotterdam. Porck greatly enjoyed doing research and teaching as a visiting professor at the National University of Singapore, but to continue her career in academia she knew she had to start a tenure track position.
"When I started looking for such a position, professor John Hollenbeck, a co-author and mentor, recommended OSU to me," Porck said. "He thought it would be a good fit, and he was totally right. I remember getting on the plane for my interview, telling my husband it would have to be pretty awesome for me to come back and tell him we would be moving from Singapore to Oklahoma. But that is exactly what I told him after my visit to OSU."
Years later and Porck still lives in Stillwater with her family. For them, this place has become home and OSU their community. She and her family have found comfort in the small yet diverse town and find similarities between The Netherlands and Oklahoma's friendliness.
"I did not expect to become part of the OSU community so quickly," Porck said. "I have a great department, so we often hang out together after work. We greatly enjoy tailgating with friends on gamedays, when everyone is dressed in America's brightest orange, which happens to be very similar to Dutch orange. I often end up having fun conversations while shopping for groceries because I bump into a friend or someone curious about where my accent is from. I also like that nature is right around the corner, so I can go hiking on the weekend."
Porck teaches Strategic Management at Oklahoma State, a senior-level course. In this course, her students explore why some companies outperform others and why firms do what they do. The students are faced with the strategic decisions that company executives have to make every day, creating a challenging and engaging learning environment.
"As someone who is invigorated by new, complex challenges and is learning-oriented, I do my work with passion," Porck said. "I am grateful that my job offers me the opportunity to learn, explore problems, help students and make a difference."
For Porck, working and living overseas has become a dream come true for her and her family. Along with the unique experiences that come from traveling, Porck has learned countless life lessons and grown as a person, she said.
"I am convinced that you learn many valuable skills when you get out of your comfort zone and try new things," she said. "Living overseas is an opportunity to learn about other cultures, meet new people, make new friends, explore other foods and arts. I also believe that it can teach you confidence and independence."