Words of Wisdom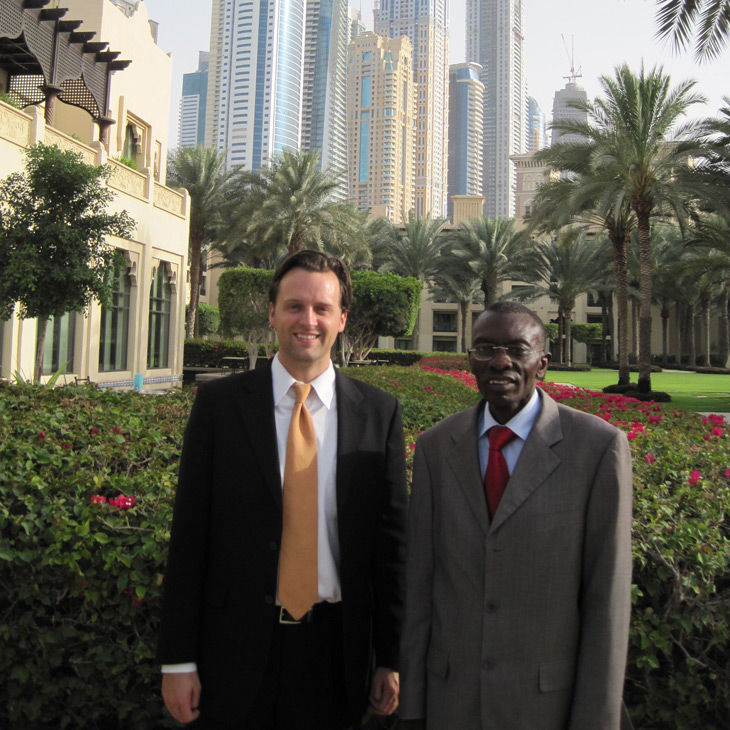 By Terry Tush
Tyler Schooley believes one of the best learning experiences as an Oklahoma State University student was hearing Spears School of Business alumni share their stories.
"I always found myself being inspired by the successful OSU alums coming into the school and speaking to us. It was motivating to hear them telling us how they made it after graduating from OSU, how they were in the same position as we are a few years ago, and what they had done with their careers," says Schooley, whose life from his hometown of Enid, Okla., to Stillwater and eventually to Kampala, Uganda, is a story worth telling.
Schooley grew up in Enid before becoming a fourth-generation OSU Cowboy. His great-grandfather Lloyd Long attended Oklahoma A&M; his grandfather former state Sen. Ed Long met his grandmother at OSU; and his parents, Keith Schooley and Donna Lawrence, his sister and numerous cousins are also OSU graduates.
He recalls a childhood of driving from Enid to Stillwater for Cowboy basketball games with his grandfather. "Those trips during the days of head coach Eddie Sutton infused the OSU spirit deep within me, as the energy inside Gallagher-Iba Arena was unparalleled," he says.
Grandfather Ed Long introduced Schooley to Africa when they visited the Congo together on a mission trip with their church. "That trip definitely planted a seed in me," says Schooley.
The Congo was the first of Schooley's international trips during his college days. He spent a summer doing mission work in Japan and took backpacking trips throughout Europe, the Middle East, Southeast Asia, Central America and South America. He spent a Semester at Sea, traveling to 10 countries in 100 days aboard a cruise ship with 700 students. During his four years in college, he visited more than 30 countries.
So how could he afford all that travel? He ran his own ticket-resale business.
"During my time in college I made about $20,000 selling event tickets," he says, "and I used that money to help finance most of these trips."
He graduated in December 2007 and interned for U.S. Rep. Mike Doyle of Pennsylvania and for Calvin Burgess, a serial entrepreneur from Guthrie, Okla., who owns Kenya's largest rice farm. By the end of that summer, he decided to go to Africa to start a business.
Schooley finally decided on a destination in Uganda. "In Uganda, something felt right. It was actually the fastest-growing GDP growth rate in Africa at the time, and I felt like it would be easier to plug in and start a business," he says.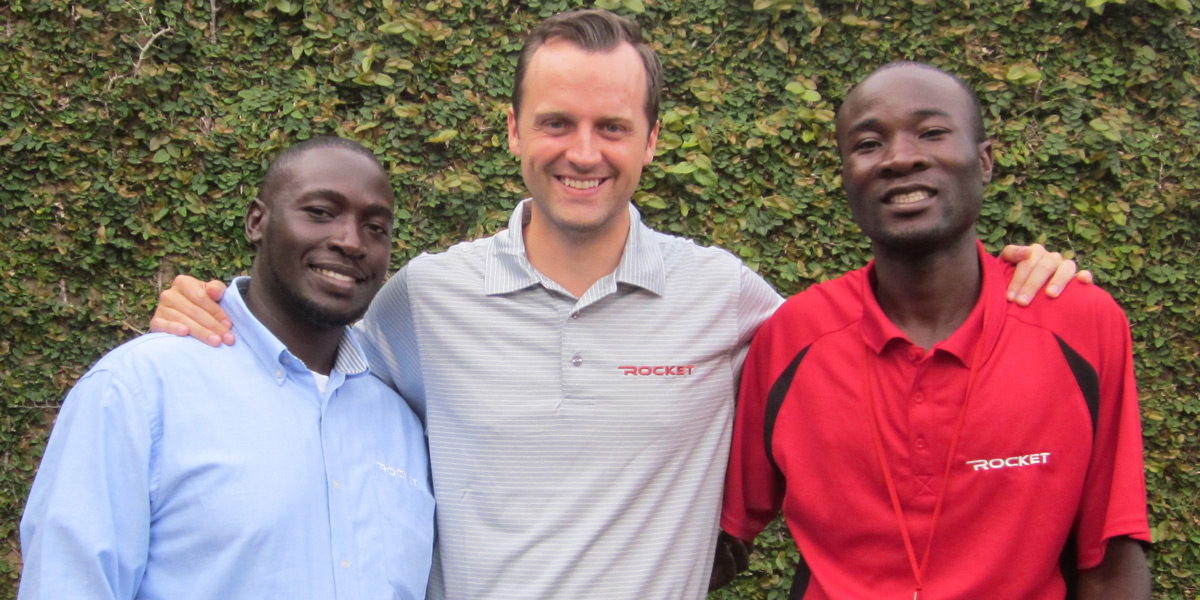 On Sept. 3, 2008, he landed in his new hometown of Kampala, the capital and largest city in Uganda with a population of nearly 1.25 million.
He soon opened Inflate Africa, the first inflatable products distributor of its kind in the country (think air dancers at car washes, inflatables used by car dealerships, etc.).
Over the next several years, while running Inflate Africa on the side, Schooley tried his hand at other business ventures.
Then Inflate Africa clients began asking for more than inflatables, seeking corporate gifts, logo merchandise, promotional items, etc.
Schooley took advantage of this opportunity, refocusing his efforts and rebranding his company in May 2013 as Rocket Products (www.rocketafrica.com).
"To be honest, I had about five years of failure, and there were a lot of lessons to learn," he says. "In Africa, to succeed in business there's one word that supersedes all other words, and that's persistence. Only the people who are extraordinarily persistent, that stick through it and really learn how to do business here effectively, make it."
Rocket Products is now one of the leading logo merchandise companies in east Africa. After sales of around $100,000 in 2013, revenues grew to $700,000 in 2014, and Schooley is expecting to sell about $1.2 million in products in 2015. He projects $3 million in revenues in the next three to five years.
"I would say we are the leader in Uganda and Rwanda. We just entered Kenya last September, which is by far the largest market in the region," he says.
Rocket Products landed a licensing deal with Shell late in 2014, which covers six African countries but could be expanded.
"I think our biggest accomplishment in terms of credibility is the Shell license. This puts us on the map in our niche. When I'm in the United States and with companies who do the same business we do, and I tell them our major clients are Shell, Coca-Cola and other major multinational brands, they're stunned," he says.
"To get those type of contracts and deals, you had to be in the industry 30 or 40 years ago when the industry started in the States. So for a 30-year-old to have met last week with the communications director and the executive assistant to the president for Coca-Cola Africa and hear they want to work with us, it's a great thrill."