Welcoming Wozniak
By Terry Tush
Steve Wozniak's travels had taken him all over the world but he had never set foot in Oklahoma. Until this spring.
The co-founder of Apple Computer made two trips to Oklahoma within a couple of weeks of each other. In March, he served as a judge at the Oklahoma regionals of the FIRST Robotics competition in Oklahoma City. In early April, he spoke to nearly 4,000 people in Stillwater, Tulsa and Oklahoma City as part of the Spears School of Business speaker series.
Wozniak participated in a question-and-answer session in front of about 2,000 OSU students, faculty and staff at the Stillwater Global Briefing inside Gallagher-Iba Arena on April 6. He also spoke to nearly 1,000 in the business community at the Tulsa Business Forums the next morning, then captivated an audience of more than 900 that afternoon at the Executive Management Briefings in Oklahoma City.
"We are so pleased to be able to bring in speakers such as Steve Wozniak to the state of Oklahoma as part of our outreach mission," says Julie Weathers, director of the Center for Executive and Professional Development, which coordinates the speakers programs.
"The corporate and organizational sponsors who help fund these opportunities for the forums and briefings provide the opportunity for executives, managers, leaders and students to hear these outstanding business and government leaders who have made such a difference in our nation. The historical aspect of hearing these speakers firsthand who have changed the future of our nation is monumental."
Wozniak was informative and entertaining during the sessions, telling stories about his life and his days at Apple. His topics ranged from how he and Steve Jobs started Apple Computers in the 1970s to his thoughts on how soon artificial intelligence may be available (he believes it could happen by 2045).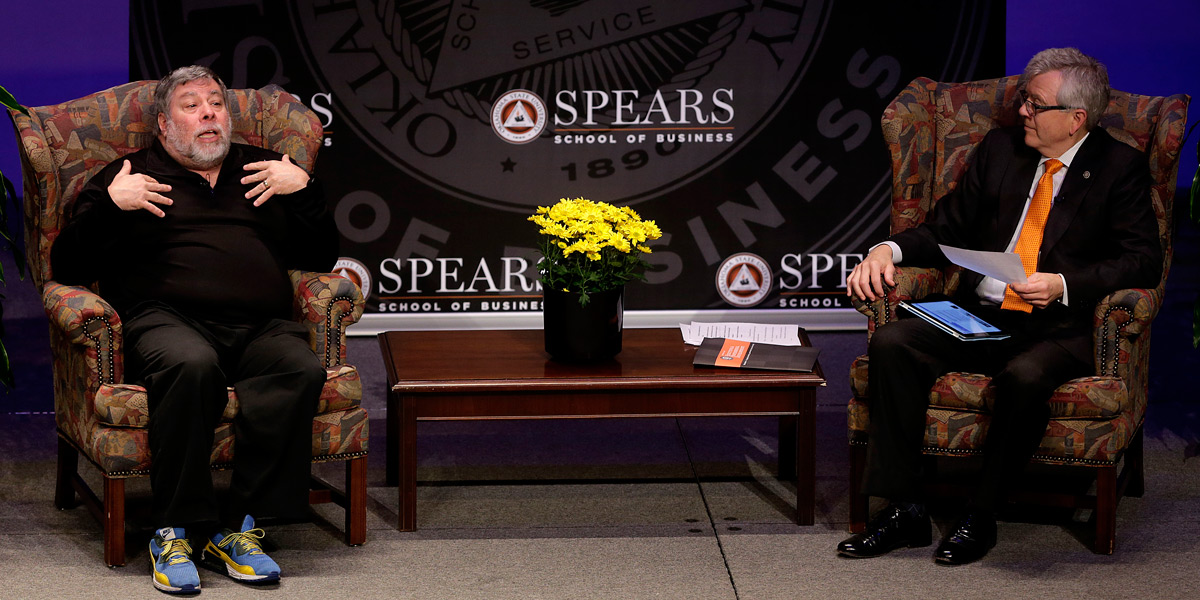 "If they ever do get intelligent, maybe they'll look upon us as the gods who created them; maybe they'll look upon us as the pet dogs that built them to take care of us," he said. "I'm sort of thankful I won't be around."
He used his engineering skills to develop Apple's first products, including the Apple I and Apple II computers. A self-proclaimed nerd, he admitted to being star struck when he met actor Jim Parsons, who portrays Sheldon Cooper on CBS' The Big Bang Theory, a show he made a guest appearance on in 2010. Wozniak also wrote programming for video games, starting with the first one, Pong, and the first universal remote control.
While Wozniak left Apple in 1987, he has retained a presence with the company, saying he receives a $50 check weekly. After Jobs died in 2011, the 64-year-old Wozniak is the only person on the Apple payroll from the creation of the company on April 1, 1976, until today.
The Tulsa Business Forums and the Executive Management Briefings are presented annually by the Spears School of Business, along with corporate sponsors. They are coordinated by the Center for Executive and Professional Development.
Other speakers during the 2014-15 school year were David Brooks, columnist for The New York Times and a commentator on the PBS NewsHour and NPR, and Karen Hughes, a strategic adviser to President George W. Bush in 2001-02 on policy and communications who managed the White House offices of communications, media affairs, speechwriting and press secretary.
The OSU Speaker Series in Stillwater is sponsored by the Spears School, the SGA Speakers Board and the Office of the President.
For information on future Tulsa Business Forums and Executive Management Briefings, visit CEPD's website at cepd.okstate.edu.