The Numbers Win
By Dollie Elliott
Among the Spears School of Business at Oklahoma State University graduates making a difference professionally and personally is Tara Rains, whose passion for accounting inspired her to overcome great obstacles.
When she was a toddler, Rains was diagnosed with cerebral palsy. She has been in a wheelchair since early childhood, but she has never let that slow her down.
At a young age, she had a knack for numbers. "I was told, before I knew what accounting was, 'You're going to be an accountant someday.'
"My parents were always supportive. They wanted me to go far; they knew I could go far. They've never looked at my disability as a hindrance," says Rains, who has even gone white-water rafting with her parents and older brother Tyler.
"My brother, Tyler, who sees humor in everything, has always uplifted my spirits and kept me laughing. He really helped me on my bad days," Rains says.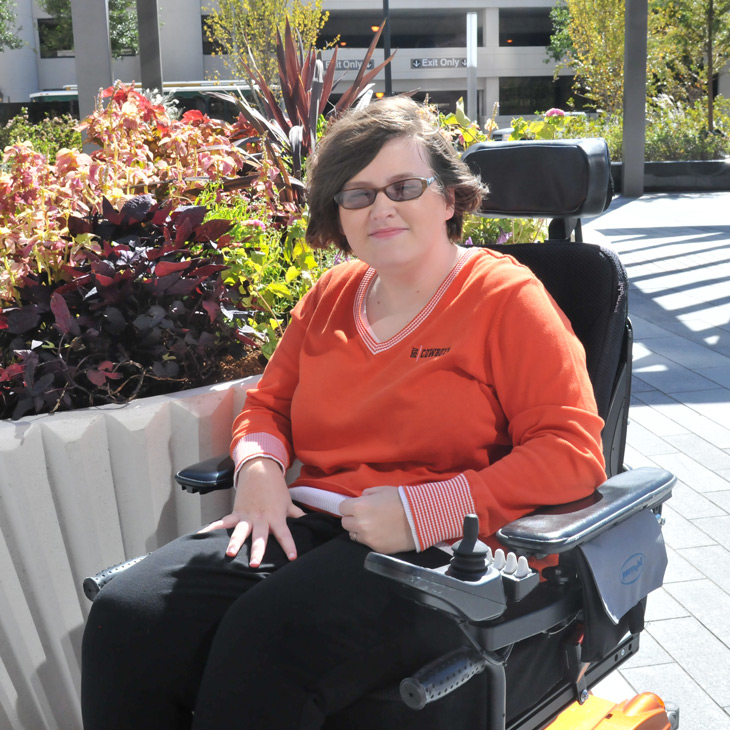 In 2003, Rains was diagnosed with a rare nerve condition that prevented her from attending high school. After several experimental treatments and 16 surgeries within 18 months, she was determined to return to school. She ended up spending half her junior year and her entire senior year homebound, but she still maintained a 4.0 grade-point average.
"I took some classes in high school, fell in love with accounting and never changed my degree plan once," she says.
Health issues forced her to wait to go to college after graduating from Jenks High School in 2005. As soon as she was able to return to school full time, she earned an associate degree from Tulsa Community College in 2007.
Rains then decided to enroll at OSU-Tulsa.
"I chose OSU-Tulsa not only for the convenience — I had also visited other universities in the area — but OSU just felt like a good fit. I knew of the accounting program's good reputation and knew it would be an easy transition to the master's program, my ultimate goal," she says.
One of Rains' first accounting classes at OSU-Tulsa was Intermediate Accounting I, taught by Bill Schwartz, associate professor in the School of Accounting. "He was pretty intimidating. I felt like he was there to make or break you," she says, calling him one of her favorite professors. "He said, 'I'm not here to be your friend; I'm here to make you an accountant.'"
Schwartz challenged his class to come back and thank him when they passed the CPA exam on the first try.
"And I did pass on the first try, and yes, I did go back and thank him. I said, 'Thank you, you were right,' " she says. "I told him to keep up what you're doing."
"I appreciated his hardcore accounting outlook because it set a great foundation and prepared me for the rest of my education and work career."
Rains completed her bachelor's degree in accounting with minors in finance and management at OSU-Tulsa in 2011. Her next challenge was earning a master's degree in accounting, which is only offered on the Stillwater campus.
For her first semester, she decided to commute to Stillwater using BOB (OSU's daily commuter bus that shuttles students, faculty and staff between OSU-Tulsa and Stillwater). Her parents were nervous about this plan, but they eventually agreed.
After that first semester, Rains and her vocational rehab specialist persuaded her parents to allow her to move to Stillwater so she could complete the program on campus. It would be the first time Rains would live away from her parents.
"The transition from living with my parents to moving to Stillwater was a little difficult for everyone. Of course, more for my parents than for me," she says. "They wanted me to check in a little more than I did, just like any other kid going off to college, but it worked out great."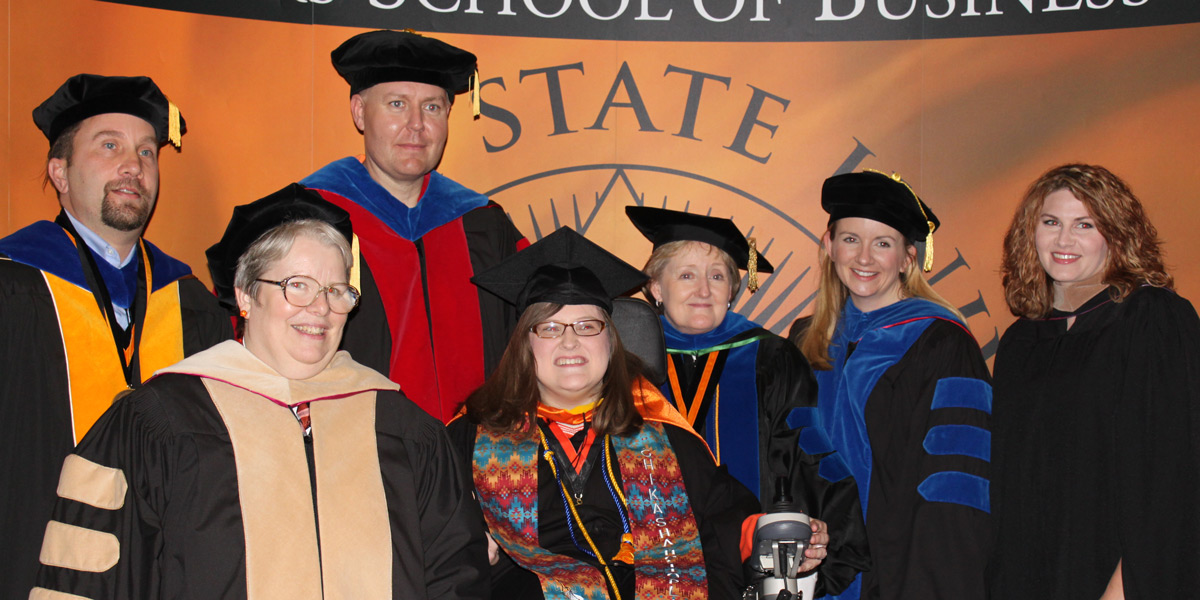 She adds that the OSU staff and faculty gave her the support, accommodations and sense of community she needed to feel comfortable. Rains is grateful for the encouragement of her parents and OSU accounting faculty members Charlotte Wright, Carol Johnson and Bob Cornell.
"Charlotte Wright's so interesting. She's knowledgeable about the oil and gas accounting subject; it was almost like having a fireside chat. You could tell that she wanted to be there and wanted you to succeed in her class," Rains says.
Wright encouraged Rains during her first semester in Stillwater. "She and Bob Cornell (head of the Accounting Department) gave me their cell phone numbers and said, 'We know we're closer than your parents in Jenks. If you need anything at anytime, call us.' "
Rains said Wright even set up a Skype account so she could attend class remotely if needed. "Luckily I never had to use it," says Rains. Other faculty members, "Angela Spencer, Monika Turek and others in the accounting department, all really impacted my education," she adds.
Rains also benefited from OSU's Disability Resource Center, where she could get extended time to complete tests, "although I usually finished the test about the same time everyone else did," she says.
"But OSU was willing to help me in any way. There were curbs where they were needed, grab bars in the correct places, automatic doors. It was a great experience."
In 2013, Rains successfully completed the master's program in accounting, achieving the academic goal she had set for herself many years ago. And that 4.0 GPA she had in high school? She extended it all the way through her master's.
In January 2014, Rains joined ONEOK in Tulsa as a staff accountant in the natural gas liquids pipeline segment. Her favorite part of her position is that she gets to apply the skills she gained at OSU in her everyday work.
"I love my job," she says. "When I was interviewed, they asked if I had any specific interests, and I said, 'I want to put to use those basic accounting skills that I learned.' "
"The accounting coursework at OSU was challenging but it was definitely rewarding. They set a great foundation for my career," Rains says.