Kicking It Up
By Terry Tush
As a high school senior, Louis Lacarbonara felt a call to be different. While many of the graduates from White Plains (N.Y.) High School were deciding to attend college nearby at Hofstra, Syracuse or a State University of New York campus, Lacarbonara's entrepreneurial spirit kicked in.
Thanks to an assist from longtime family friend and former Oklahoma City Thunder head coach Scott Brooks, Lacarbonara spent the past four years at Oklahoma State University.
"When I was looking for schools, a strong entrepreneurship program was a must," says Lacarbonara, who earned a bachelor's degree in entrepreneurship with a minor in marketing from OSU's Spears School of Business in May.
OSU was the first school to officially accept Lacarbonara, and in January 2011, the high school senior and his parents flew to Oklahoma for their first visit to the Stillwater campus.
"In New York, no one really goes that far away to school," he says. "So I decided to go against the norm, meet new people and come to Oklahoma State and pursue entrepreneurship."
It didn't hurt having a friend nearby in Brooks, who spent seven years as head coach of the Thunder before his dismissal in April.
"He would come pick me up, or he'd have someone drive to Stillwater to pick me up. He was my safety net. Without him, I wouldn't be here. I needed that safety net because I don't have any family here," says Lacarbonara, who is, of course, a big Thunder fan.
His dad, Antonio Lacarbonara, owned an Italian restaurant in White Plains. Brooks came in to eat one night during his NBA playing days. "(Brooks) loved Italian food, and they instantly clicked," the son says.
But the No. 1 reason he chose to travel nearly 1,500 miles to attend OSU was the School of Entrepreneurship.
"I worked in my grandfather's pizza shop growing up, and I also worked for my dad as a waiter in his catering business," he says. "I've always wanted to be an entrepreneur. I never wanted to work for someone."
That desire turned into a dilemma for Lacarbonara when he returned to OSU in August 2013 after spending the summer in New York. He was bringing a vehicle to OSU, but his mother insisted he foot the gasoline bill himself. Not wanting to work for someone else, Lacarbonara began looking to start his own business.
Surfing the Internet, he came across a young boy from California selling "beater boxes," an assortment of shoes in different sizes and different conditions. "The kid said he was going to make $200. My initial reaction was, who is this kid?"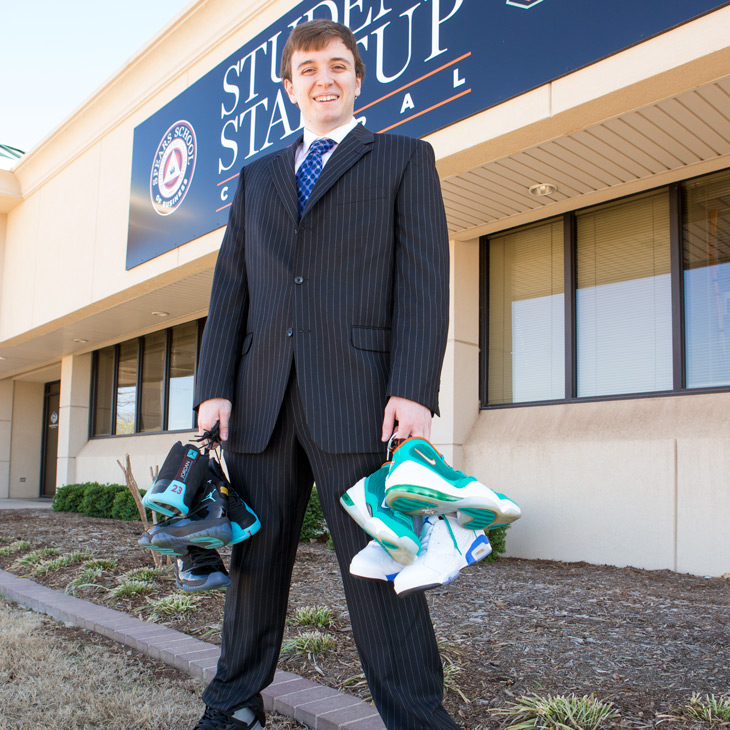 After more research, Lacarbonara spent $1,000 to purchase boxes of shoes. "Two boxes came in with some good shoes — LeBrons, Jordans, Durants — but I made sure I got size 13 shoes, my size, just in case I didn't sell any so that I would have shoes to wear for a while," he says.
He shouldn't have been concerned. He would clean and restore the shoes to nearly new condition, and sales followed. By November, he set up an Instagram account, named his business Direct Kicks and began building inventory.
But it wasn't until 2014 that Lacarbonara got serious. "It really wasn't until February or March when I really decided I can do this and make some money," he says.
Monthly revenue for the first five months of 2014 was $1,000 to $2,000, Lacarbonara says. But marketing the restored shoes online saw his business take off.
His Instagram followers increased from 3,000 to more than 7,000, and his ability to devote all of his energies to Direct Kicks pushed his revenue to $6,000 a month.
When he returned to OSU in the fall, Lacarbonara joined Student Startup Central, the Spears School's business incubator facility that provides office space, resources and services for student startups.
Working alongside other student startups was invaluable, he says. In addition, Richard Gajan, the Thoma Family Clinical assistant professor in the School of Entrepreneurship, and Pat Henriques, Distinguished Entrepreneur-in-Residence at the Riata Center for Entrepreneurship, counseled him.
"Louis has all of the very best traits of a successful entrepreneur," says Henriques. "He has a tremendous work ethic that is matched only by his passion for his business and his drive to provide his customers with the best product possible. He is eminently coachable and applies his lessons-learned with discipline and enthusiasm."
With the help of the Spears School mentors, Lacarbonara reevaluated his marketing strategy. Instead of posting photos of his shoes each time he would get a new pair ready to sell, he restocked every two weeks to build anticipation among his now 15,500-plus Instagram followers. He also took Direct Kicks on the road to shows in Oklahoma City, Dallas and Wichita, Kan.
The results paid off. His first-quarter 2015 revenue nearly equaled all of 2014's. Lacarbonara says he hopes to surpass $150,000 in revenue this year.
"When I came back in January, that's when I began thinking long term," he says. "I do everything myself, but if I want to start thinking about hiring a team then I need to begin thinking about the operations. My true value is making the deal. I know the market for every shoe, every style, every condition and every size. So after graduating, can I hire a team and expand into a national business?"
Lacarbonara pays an average of $100 for a used pair of shoes. The most he's ever paid was $400 for a pair of 1985 Air Jordan 1, considered one of the most iconic sneakers of all time. He then charges his customers anywhere from $140 to $400 a pair, depending upon what they are and the amount of work required to restore them. He recently sold a pair of Air Jordan 11 Pantones for $475 and another for $450. A pair of Doernbecher pink cancer research shoes and a pair of Dr. Doom shoes, the signature model in Nike's Fantastic Four collection, each went for $450 as well.
"I know my prices are the best. Whatever the market price is, I'll price it under because I want the sale," said Lacarbonara, who generally keeps 100 pairs of shoes in his inventory. "If it's a beat-up pair of shoes, I'm looking for a 50 to 60 percent margin versus if it takes no work, I'll take 15 to 20 percent just because it's an instant sale."
Lacarbonara could join his grandfather Nick in re-opening a New York pizzeria, but he is choosing to focus on Direct Kicks. "He is my biggest role model. He taught me entrepreneurship," he says of his grandfather.
But the 21-year-old became an entrepreneur at Oklahoma State.
"Louis will be an incredibly successful entrepreneur," says Henriques. "Direct Kicks is just the first of many businesses that he will start and grow. I expect we will see him on the cover of Inc. magazine before he turns 30. He's a fabulously talented, hardworking young entrepreneur."
Lacarbonara says, "I don't regret leaving New York for OSU one bit. I could do without the Oklahoma weather, but I love Oklahoma State. I've had great teachers both in the Spears School and across Oklahoma State.
"Just by taking the extra entrepreneurship classes, I came to view my business as an actual business and began looking at it long term. I was able to develop it into something bigger than what I originally thought. The Spears School has definitely made me more passionate about entrepreneurship and makes me want to take my business to the next level."