Getting An Early Start
By Dollie Elliott
Anna Hudson has attended numerous etiquette dinners, career fairs and other events to develop the professional skills that will help land her dream job. She has visited with career consultants to fine-tune her résumé and cover letter. She has a HireOSUgrads.com profile to ensure future employers see those skills. She has taken on leadership roles in the Entrepreneurship Club, Life Out of the Box Club and Phi Beta Lambda. All of these steps have been to prepare for life after graduation.
While you'd expect this from a graduating senior at Oklahoma State University, Hudson recently completed her freshman year in the Spears School of Business. She is already participating in the Eastin Center for Talent Development, which is focused on inspiring and developing students in professionalism, business etiquette, career readiness and a broad worldview.
Launched last fall, the Eastin Center provides leadership and administrative support for the Spears School's Career Readiness Initiative, which focuses on practical interpersonal business skills to meet the requirements of the business community and recruiters.
Hudson and other Spears School freshmen like Garrett Stevenson are among a growing group of underclassmen who are getting a jumpstart on their careers.
"The Eastin Center is important to me because by completing these activities it proves that a student is career ready and has what it takes to not only get a job but succeed at that job," Stevenson says.
"I believe it is important to be a part of the Eastin Center for the experiences it gives you," says Hudson.
"Employers not only want a person with a degree but a person with experience and developed skills in their areas. The Eastin Center gives you those experiences that will put you ahead of the game to where you will be fully prepared after graduation."
Spears School Dean Ken Eastman says the Eastin Center will make a difference in the lives of future business school graduates.
"We believe the Eastin Center will become a leader nationally in innovative programs that improve the career readiness of students, thereby improving their quality of life," says Eastman. "The Eastin Center programs view students in a holistic manner and give them opportunities to expand their skills in all facets of their lives."
Joseph and Monica Eastin were instrumental in the creation of the new center with a generous gift in 2014. Joseph Eastin, president and principal of ISNetworld, earned his bachelor's degree in business administration from OSU in 1992.
Hudson learned about the Eastin Center in her freshman business orientation class.
Hudson says she has enjoyed the many options the Eastin Center has provided to connect with successful business leaders.
She is the daughter of Gregg and Janette Hudson, an administrative support specialist in the Riata Center for Entrepreneurship. Her mother encouraged and inspired her to attend the Spears School.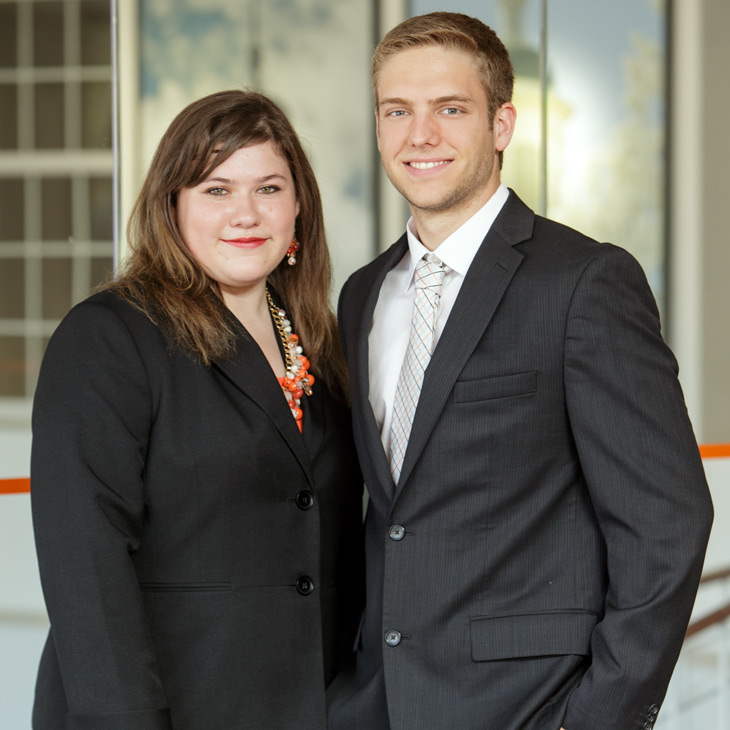 "She inspires me because even though she never attained a college degree, she never let that stop her from obtaining a job that she had her eyes set on. She has always encouraged me to do the best I can while I am in college and to dedicate myself to working hard toward my future goals and all the things I hope to achieve," says Hudson.
Hudson says she's learned etiquette skills at the Eastin Center.
"I now know how to act, dress and speak at a formal dinner or gathering when representing either myself or the school," she says.
"While attending Eastin Center events, I have expanded my social networking skills and critical thinking skills to where I can talk and interact with those around me in an easy and consistent manner," she says.
"Get all the experience you can and be as involved as you can," she advises others. "The world seems like a smaller place after making connections. And just one connection in college by attending one event, being a part of one club, or just being social in general could change your future for the better.
"Go out and impress future employers not only with the amazing OSU degree you'll earn but also with the excellent interpersonal skills you'll develop that make you stand out against all other candidates," Hudson says.
She stresses that it's never too early to have a résumé.
"I attended career fairs and spoke to some employers who asked for my résumé even though they knew I was a freshman. Knowing that you're prepared so early impresses them, and it gets your foot in the door," Hudson says.
As a freshman, graduation is a long way off for Hudson, but she's interested in the possibility of obtaining a master's degree in business at the OSU Watson Graduate School of Management.
Like Hudson, Stevenson also first heard about the Eastin Center in the business orientation class. The 19-year-old son of Jeff and Cindy Stevenson grew up in Katy, Texas.
He decided to attend OSU because of the reputation of the sports management program. "And because the campus was absolutely amazing," he says. His older sister Corinne is a senior speech pathology major at OSU.
Stevenson is pursuing a double major in sports management and marketing.
"I've always wanted to work in some branch of the sporting industry. Having the double major just opens up more options for me," he says.
"Although it's a long way off and will take a lot of work, my goal is to work for a professional team. I hope to get into sports law and start by becoming an agent for athletes and one day to hopefully become a general manager for a professional team," he says.
Growing up, Stevenson was highly competitive in baseball and football.
And to him the Eastin Center is like a game: the harder you work, the more points you earn to ultimately win.
The points Stevenson refers to are the points that students can earn as a part of the Eastin Center recognition initiative.
Freshmen who earn 1,000 points in each of 10 categories achieve the Eastin Center Readiness Recognition.
"Many students are well on their way to achieving 10,000 points in areas that will develop their skills to master career readiness," says Bryan Edwards, associate professor in the Department of Management and director of the Eastin Center.
"We welcome and encourage all students to participate in Eastin Center activities. Eastin Center 2.0 will launch in January 2016 and will expand to include all students who can earn Eastin Center recognition prior to graduation," says Edwards.
"Students will participate in events as a part of their Spears School classes to foster student learning and professional readiness, which is the mission of the Eastin Center."