About the VEP
"Never give in – never, never, never, never, in nothing great or small, large or petty, never give in except to convictions of honour and good sense. Never yield to force; never yield to the apparently overwhelming might of the enemy."

-Winston Churchill
The VEP is designed around two central elements: a) focused, practical training in the tools and skills of new venture creation and growth, reflecting issues unique to disability and public benefits programs; and b) the establishment of a support structure for graduates of the program. The practical elements of the program will involve three phases:
Phase 1: (January 18 – February 21, 2021): delegates will participate in a self-study curriculum, facilitated by an online discussion and assessment module, which will be moderated by entrepreneurship faculty and graduate students from Oklahoma State University. During this phase they will work on the development of their own business concepts.
Phase 2: (February 27 – March 6th, 2021): during this eight-day residency in Stillwater, OK, delegates will be exposed to the 'nuts and bolts' of business ownership through experiential workshops and lessons from world-class entrepreneurship faculty representing nationally ranked programs around the country.
Phase 3: (April 1 – August 31, 2021): delegates are provided with 5 months of advising and venture development from entrepreneurship experts at Oklahoma State University.
Topics to be addressed include: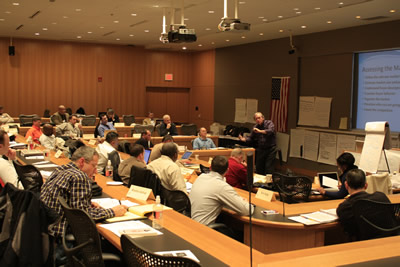 What's a good business concept and how can I determine if my idea is a good one?
Do I really need a business plan and, if so, how can I write a great one?
What do I need to know about my customer and market, and how can I get answers?
How much money do I need and how do I get it?
How do I make sense of the numbers, and which numbers really matter?
What's an economic or profit model, and does mine make sense?
What do I need to know about operations and service delivery?
What is guerrilla marketing? Are there ways to do more with marketing while spending much less?
Which activities should I outsource and what do I need to know about hiring employees?
Where do I go to get the information I need to organize my new venture?
All travel, accommodation, meals, materials, and instructional costs will be covered by the VEP Program.