Amy and Malone Mitchell Create the OSU School of Entrepreneurship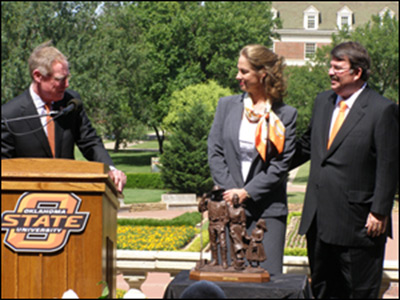 The Oklahoma State Alumni provided a gift to the university sufficient to create a state-of-the art entrepreneurship program within the Spears School of Business. The gift also included money for athletics.
The occasion shown in the photo is the day the gift was announced. During the ceremony, President Hargis said, "This incredible expression of generosity by Amy and Malone Mitchell will have an enormous impact on OSU academics and athletics. With this gift, the entrepreneurial program will foster greater partnerships with academic units and state entities in supporting entrepreneurship activities within the state."
Malone and Amy met during their first semester at OSU and were married in 1981 between their sophomore and junior years. With savings accumulated by working manual labor and some fortunate stock and commodity trades, the couple's first entrepreneurial endeavor was a computer software business. Pursing an interest in aviation, Malone bought his first of many airplanes, and along with his father purchased an aviation company. Although neither of these businesses were successful, Malone and Amy gained valuable experience.
After graduating from Oklahoma State University in 1985, Malone, with a BS in Agriculture and Amy, with a degree in family relations and child development, founded Riata Energy in their guest bedroom with $500 in startup capital. During those days, Amy worked as a social worker at a San Angelo, TX hospital during the day and maintained the books for Riata Energy in the evenings. Malone did the geology, engineering and fieldwork for the growing business. Riata Energy grew, primarily by acquiring numerous small oil producers, and by 2005 the company had become one of the largest privately held energy companies in the United States. In 2006, Malone and Amy sold a controlling stake in Riata Energy and retired from the day-to-day management of the company.
Bolstered by their entrepreneurial spirit, Malone and Amy have since built a new family of private and public energy, oilfield services, agriculture, and consumer businesses in the United States and abroad.
Amy and Malone have four children and live in Dallas, Texas.