Mexico: Mexico City and Puebla
Experience real Mexico this winter! The 2017-2018 winter break in Mexico Program provides an exciting introduction to the culture, history, business climate, and beauty of central Mexico. The course will begin with a couple of on-campus meetings in December, readings and video lectures. The group will meet in Mexico City for two days of historical and cultural immersion including visits to the Teotihuacán Pyramids, Castle of Chapultepec, the National Museum of Anthropology, Metropolitan Cathedral National Palace, the U.S. Embassy, etc. The group then will travel to Puebla, one of Mexico's oldest Spanish cities. Over the next five days, there will be visits to the VW automobile factory, brewery, and industrial parks. Additionally, campus tour and guest lectures will be provided at UPAEP University. Cultural highlights in Puebla will include the Zocalo and Puebla Downtown, Pyramid of Cholula, and a migrant village. Students will also experience colonial Mexican foods, festivals, and markets.
Courses:
BADM 4050/5200: Doing Business in Mexico An Assessment of NAFTA After 20+ Years
BADM 4093, 5093 (I): Doing Business in Mexico An Assessment of NAFTA After 20+ Years
MGMT 4750: Doing Business in Mexico An Assessment of NAFTA After 20+ Years
Travel Dates:
Jan. 3-11, 2018
Meeting Dates:
Coming Soon
Instructor: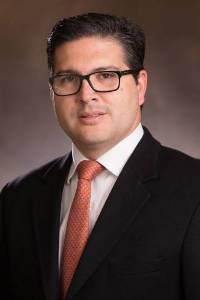 Fee:
$1,650 + AIRFARE
Fee covers tuition and fees for three credit hours, health and travel insurance, lodging, in Country transportation, a few group meals, entry fees into group tours and business visits. CAGLE will assist in organizing your air travel, but it is your responsibility to purchase your own ticket. Airfare is estimated at $500. Program fee will be charged to your bursar account as shown in the Payment Schedule.
Payment Schedule:
Coming Soon
To Enroll:
Please check with your academic advisor before enrolling in any of our study abroad and travel courses.
Link to Enroll Coming Soon
To Drop:
Drop by our office at 104E Business Building.
Student Testimonial:
"Going to Mexico was an experience I will never forget! From eating incredible food, to climbing ancient pyramids, I felt safe the entire trip and had a blast!"
-Andrew Pinter, 2016 Summer in Mexico City and Puebla